I decided to participate in What I Ate Wednesday starting this year, aka this week =)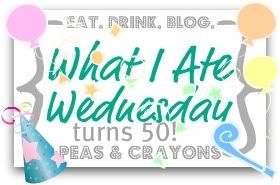 Breakfast was the same thing as yesterday, toasted bagel thin, egg beaters, turkey bacon and chili sauce! I'm really liking this combination and it keeps me full all morning.
For lunch I made the same salad as yesterday but added in some roasted red peppers for more veggies and different flavors and textures. Look at all the colors!
For dinner I roasted all the veggies I had left in my fridge/pantry - broccoli, cauliflower, a yellow squash and potatoes - with some olive oil, salt and pepper.
I finished off with some cottage cheese and grapefruit, which I forgot to take a picture of. I am pretty certain I ate my requisite 5 servings of fruits and veggies today, and if I didn't I definitely got plenty nutrients trying!
Today is day three of healthy eating, and I'm still doing good (although I'll admit I did eat a candy bar, but it fit into my daily calorie allowance!!). I'm still feeling motivated and like I am doing well so I hope the scale reflects that come Sunday!
So, what did YOU eat today?