I feel like these weeks are just flying by! I started WIAW the first week of the year and we're already at 18!!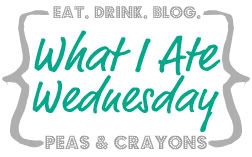 First, I'm going to show you my groceries for the week - veggie packed!
For breakfast I've been making protein pancakes with agave.
Blueberries!
The lunch I want to highlight is my sushi lunch last friday!
We also ordered a Sundae roll and a Rainbow roll. . . I prefer the Rainbow!
Sorry, blurry pic!
I've been loving these cocoa roasted nuts for my afternoon snack. And of course, my favorite apple, Fuji!
I've been making lettuce wraps for dinner instead of tortilla. Baked chicken, tomatoes and a new monterey jack with roasted red pepper cheese I found. So yummy!!
And a yummy bowl of veggies!! Lean and green =) Asparagus, broccoli and mushrooms.
Be sure to visit Jenn @
Peas and Crayons
and check out everyone else's yummy eats! Happy WIAW!