Happy Wednesday!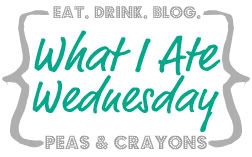 Breakfast: I finally found strawberry-banana Chobani at the store, topped with some fresh strawberries, blueberries and kiwi.
I also had a mug of English breakfast tea with some almond milk and stevia.
My ever trusty snack, the Larabar.
Lunch: I made my water fruity with some lemon and lime slices. It was very refreshing!
Half my Rainbow Roll. It was too long to fit in a picture =) Delish!
I also had a tuna tower and I finished every last bite. LOVE tuna!
Dinner: I started thinking about Chipotle, and two hours later when I was still thinking about it I realized I had to go. I got a salad bowl with chicken, bean, pico, corn salsa and more lettue.
I added shredded cheese and some plain greek yogurt when I got home to replace the cheese and sour cream from Chipotle, hopefully saved some calories.
Remember to check out everyone else's eats at Jenn's blog =)